Software Review – Stellar Phoenix SQL Database Repair
In this fast-evolving Digital Environment, Corruption is the most common occurrence. It mutely strikes at any instant and takes a toll on transaction, performance, and database availability. The reason for the SQL database SUSPECT condition can be anything including Application Crash, Improper Shutdown to the Missing Transaction Log. This action is potential enough to thwart the production badly.
Therefore, to counterbalance its impact and repair affected SQL Database, precise Recovery is the dire need. The best approach to cater to this request is by employing a Repair tool that combats the corruption and repairs the Database efficiently.
Thinking to buy a reliable Repair tool? Jumbled in the tons of options? Wondering which option is right for you? Here, Stellar Phoenix SQL Database Repair would serve the purpose. It has been self-evaluated, experimented, and approved. This fast and powerful tool is also the first and foremost choice for several professionals.
Stellar Phoenix SQL Database Repair: Transparent Analysis
Product Details
Product Name: Stellar Phoenix SQL Database Repair
Version: 8.0
Type: Do-it-yourself
Language Support: English
Limitations: NA
Minimum System Requirement:
Processor: Pentium Class
Operating System: Windows 10, 8, 7, Vista, XP and Windows Server 2008, 2003
Memory: At least 1 GB
Hard Disk: Minimum of 50 MB
Version Support: MS SQL Server 2016, 2014, 2012, 2008 R2, 2008, 200864, 2008 Express, 2005, 200564, Express, 2000, 2000*64, 7.0 and mixed formats
Software Versions:
Demo Version
Intended for evaluation purpose
Enables to view only MDF files preview
License Version
Facilitates saving
Permits you to take advantage of all features
Brief Outline
An impressive do-it-yourself SQL Recovery software intended to fight back almost all SQL Server database damage or corruption scenarios including unexpected system shutdown, virus attack, to media read error. Further, recovers inaccessible MS SQL Server database files—MDF and NDF.
Backed by powerful non-destructive repair algorithms, this dedicated solution promises 100% database integrity assurance during repairing as well as recovering. With hands on this tool, you can safely recover tables, rules, indexes, triggers, keys, and defaults. The best thing about this software is its ability to recover even heavily damaged files seamlessly.
Key Features:
Supports recovery for deleted records
Capability to store repaired database to the Live database
Capability to save repaired database into CSV, HTML, and XLS format
Prominent Features:
Fast scanning algorithms
Facilitates Recoverable Database Objects Preview
Aids Object Name Search in tree view
Facilitates creation of Sorted tables in tree view
Prepare distinct log report after scanning database
Facilitates auto new database recreation
Option to save the scanned result automatically
Support Options
SQL Server Large MDF and NDF files
MS SQL Server Sequence Objects
Standard Compression Scheme for Unicode
MS SQL Server ROW Compressed data
MS SQL Server PAGE Compressed data
XML data types, XML indexes
SQL Server File stream data types, sparse columns, columns set property
Recovery Options
Column Row GUID COL Property
Defaults and Default constraints
Sp_addextended Property
Stored Procedure, Synonyms, and Functions
Tables, Identity Triggers, Indexes, Collations, and Views
Predefined defaults, default values, and Rules
Primary, Foreign, and Unique Keys
Check constraints, Null / Not Null, and User Defined Data Types
Positive Traits
Secure
Reliable
Easy to use
Straightforward
Simple user-interface
Ensures Data Integrity
ROW and PAGE Compressed Data Recovery Is In frame
The most distinguish feature of this software is its ability to recover SQL tables with PAGE and ROW compression. It is a much-demanded need by many users. In addition, it offers support for SQL Server 2008 R2 SCSU.
Powerful Algorithms to Safeguard Data Integrity
Thanks to its powerful algorithms, the top-most concern for every individual—Data Integrity is always maintained. This software comprehensively scans MDF files and efficiently recover as much data as possible
Deleted Record Recovery Is No More Hassle
This software enables you to recover corrupt database deleted records effortlessly without any alteration in original hierarchy. After recovery, you can easily save them in the newly created table.
Multiple Saving Options for Added Convenience
This powerful software has programmed to offer as much ease as much possible. Thereby, to provide utmost comfort, it comes with multiple saving options. You can choose the desired option to save the repaired SQL Server database. The hidden secret of this feature is that you do not require SQL Server on your system to access the file.
All Database Components Recovery Is In Frame
Another efficient feature speaking of its diverse nature. It lets you recover almost everything including column set property, Keys, Rules, and Indexes, to Stored Procedures in a hassle-free manner.
Selective Recovery is No More Tedious Task
With hands on this software, you can effortlessly perform selective database objects recovery. It allows you to choose desired database objects for recovery and save them at a specific location.
Disruption Is No more a Hindrance
Another quite significant feature of this software is its reconnection ability to Server automatically, in the case of interruption while repairing. Thanks to this feature, you can repair smoothly.
How does it Work?
The functionality of this software is very simple and straightforward. Simply follow the stepped instructions.
Steps to Repair and Recover are as follows:
Step 1: Download, install and launch Stellar Phoenix SQL Database Repair software using the activation key
Step 2: Click Select Database -> Select the database for recovery (In case, you are unaware of the exact destination, Click Find Database ->Folder -> Search)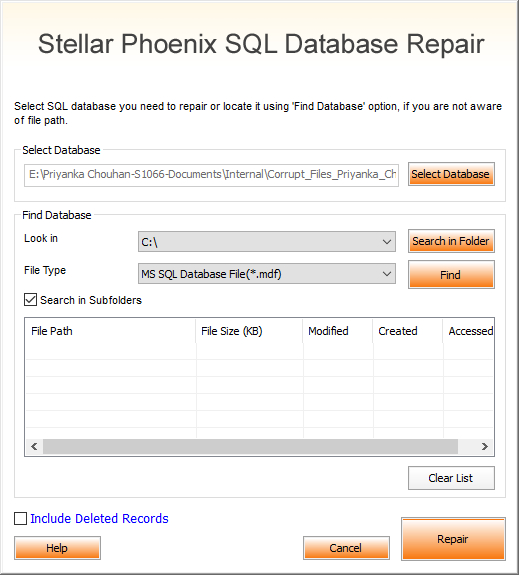 Step 3: Click Repair
Step 4: All repaired database objects will enlist in the left pane
Step 5: Click desired object to preview its data in right-pane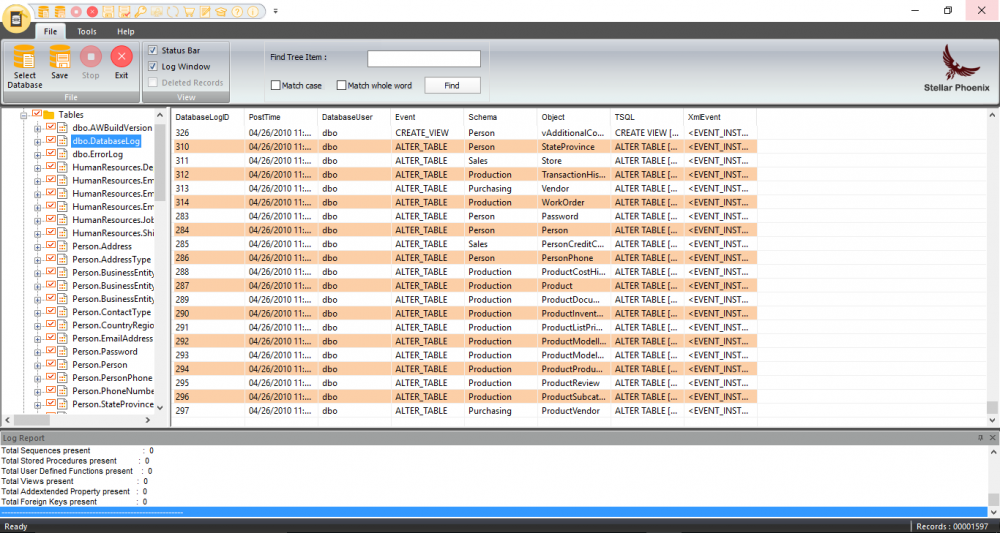 Step 6: Now, save the repaired database. Click on the Save button
Step 7: You have 4 options to save the repaired database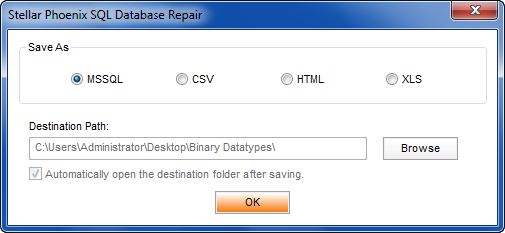 Here, I am choosing MSSQL option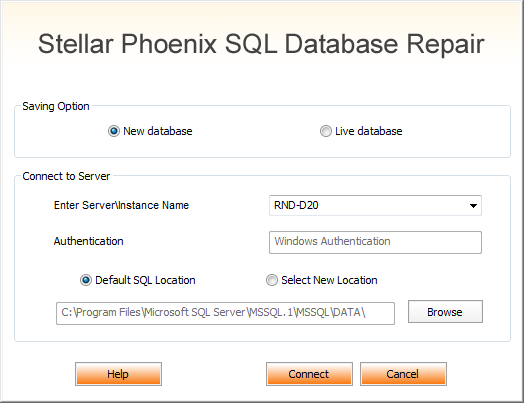 Step 8: You can see New database and Live database I selected the New database option and save the repaired database. Click Browse and state destination detail
Step 9: On connection, click Connect
Step 10: On generation of File saved at the desired path dialog box, click OK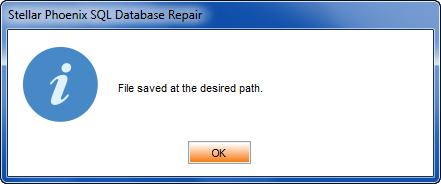 The Repaired and Repaired process is complete.
Final Verdict
Every Database users' searches for a recovery tool on which they can ultimately rely for resolving their both day-to-day and severe database corruption issues effortlessly. However, this smart software: Stellar Phoenix SQL Database Recover has all the unique traits to work efficiently in almost all corruption cases. Moreover, it is an edge over other humble competitors in terms of ease-of-use, scanning performance, flexible options, technical support and much more. Personally, my rating for this software is 9 out of 10. Try it!